Foldawheel Electric Wheelchair
ELECTRIC WHEELCHAIRS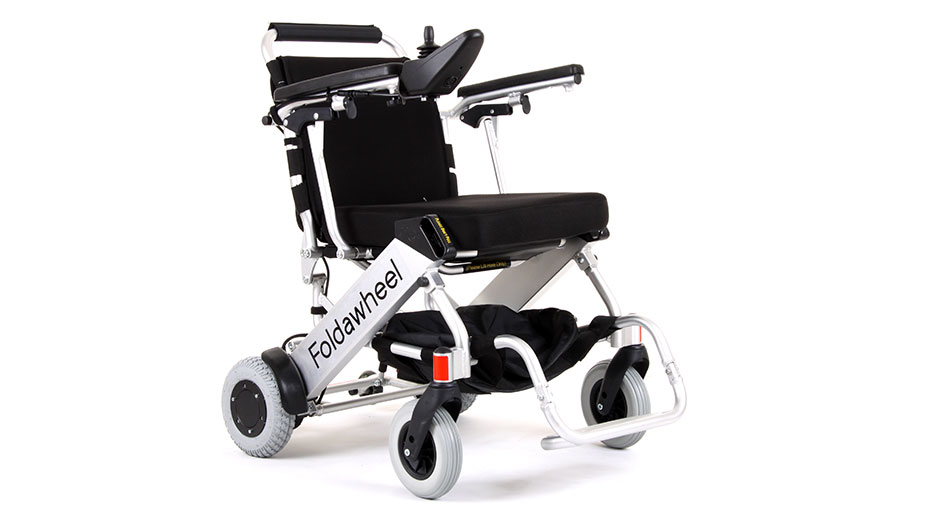 Foldawheel User Weight
The Foldawheel electric wheelchair is capable of carrying a user weight up to 15 stone 10lbs.

Foldawheel Heaviest Part
The heaviest part of the Foldawheel electric wheelchair weighs 3 stone 3 lbs.

Foldawheel Range
The Foldawheel electric powerchair has a maximum range of 9 miles.

Foldawheel Battery
The Foldawheel powerchair is powered by a 8Ah battery.

Foldawheel Speed
The Foldawheel Electric Wheelchair can achieve a maximum speed of 4mph.

Foldawheel Seat Width
The Foldawheel Wheelchair has a seat width of 18 inches.
Foldawheel Electric Wheelchair
The Foldawheel is a standout powerchair in the world of electric wheelchairs.
Weighing in at an amazing 20.5 kg the Foldawheel powerchair is the lightest powerchair in the world!
Yet don't be fooled into thinking this is any less of a powerchair, the Foldawheel Electric Powerchair possesses more power and features then most other electric wheelchairs on the market today.
On a single charge the Foldawheel can carry its passsenger an impressive 14.5 km (9 miles).
FREE DELIVERY
No hidden costs, delivery on all wheelchairs listed on Wheelchair Prices is FREE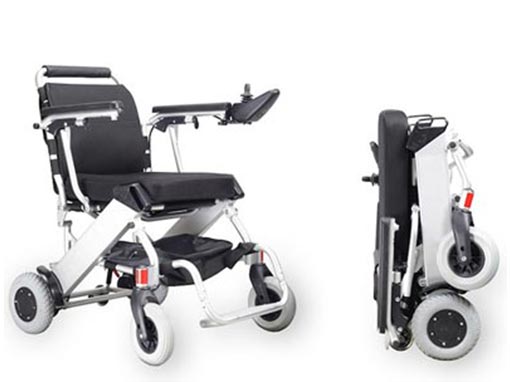 Foldawheel Electric Wheelchair
A great aspect of the Foldawheel Electric Powerchair is that it can fold down into a compact size allowing it to be easily placed into the back of a car boot for days out or to put out of the way and store. To fold down the Foldawheel is very simple and can be achieved in a mere 5 seconds. The Foldawheel folds down to just 61cm (24′) Length x 74cm (29′) Width x 30cm (12′) Depth. It also has 22cm (9′) diameter rear wheels and 15cm (6′) diameter front wheels
Product Features
The Foldawheel Electric Wheelchair is equipped with a variety of great features including an anti-tilt support which incorporates an advance hydraulic system. This means that you will always be secure when on the go on your electric wheelchair.
Included with the Foldawheel is a convenient storage bag to store your essentials. The Foldawheel also has armrests that can be raised to enable greater access when getting close to desks or for easier transfer from the powerchair.
Read our blog